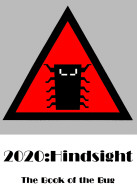 2020:Hindsight
The Book of the Bug
by
Jock Howson
2020:Hindsight concerns the collapse of western society as a result of problems associated with the Millenium Bug. Written retrospectively in the year 2020, it is the tale of how a small community survives the horrors and torments of The End. The narrator, a man crippled in the Food Riots which precede the collapse, tells the tale of the Bug, and of a tragi-comically inept fight against social dis-organisation, both external and internal, and the passage through a Hobbesian decline to an ultimately doomed hand-to-mouth existence. The book is primarily a black comedy, but it is also a satire and an experimental entertainment, devoid of plot or character or description but structurally and textually rich, full of thought-provoking incident and allusion.
A very worrying nonsense.
To find out how to buy a copy of
2020:HINDSIGHT CLICK HERE
Please click below to view your required section of the opening extract
CONTENTS
PAD1: The End
To save the full extract of 2020:HINDSIGHT

to read later CLICK HERE


You have been reader number


For more information about Cygenesis or just to comment please contact: response@cygenesis.co.uk

CYGENESIS is new and needs your help to tell our stories. We hope that you enjoyed your visit and will tell your friends about us.

MEANWHILE...
The best place for traditionally published works on the NET remains....

HIGHLY RECOMMENDED!